Missouri Artists on Main
315-321 So. Main St.
St. Charles, Mo 63301
636-724-1260
June and July Workshops!!
 June 26 – "Whimsical Watercolor Animals" with Janine Helton!!
In this workshop, you will paint a portrait of your favorite
four-legged friend!  You will learn to evaluate and interpret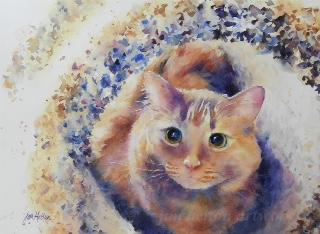 your own photograph and make decisions regarding
composition, color and value changes.  Techniques of
lost and found/hard and soft edges, wet-on-wet,
direct painting, negative painting, and more will be
explained and demonstrations!  2 Openings!
When:  Tuesday, June 26, 2018
Time:  9am – 4pm
Cost:  $85
June 28 – "Just Clucking Around II" with Jean McMullen!
This is second in the series of ways to paint Roosters!!  This time, we will not only
use brushes, but we will add fingers!!  These fun and whimsical fowl will add
new techniques of wet on wet, wet on dry, splattering and much more!!
All supplies will be included! 2 Openings!
When:  Thursday, June 28, 2018
Time:  9 am – 4 pm
Cost:  $85 includes supplies!
July Workshops!
July 9 OR July 28 – "Watercolor Start to Finish" with Janine Helton!
In this one day workshop, you will learn my
process of planning and preparing an underpainting
before painting the subject, moving into negative painting, and then adding the finishing touches with positive shapes.  Techniques covered include composition, using and combining your own photographs, color and value, lost and found/hard and soft edges, and positive and negative painting, with an emphasis on the later.
When:  Monday, July 9 OR Saturday, July 28
Time:  9 am – 4 pm
Cost:  $85
July 10 – 31 – Beginning and Intermediate Watercolors with Joyce Rothermich! (Four Classes)
This class is for the beginner or the artist wanting to expand and develop their knowledge in the area of watercolor. Learn the elusive qualities, the vitality and its capacity to adapt to the visual responses of the individual artist.  You will become familiar with the medium through a "hands-on" approach.  Monitoring and guidance through each exercise and painting will be provided by the instructor.
When:  Tues. Mornings, July 10,17,24, & 31
Time:  10 am – 12 pm
Cost:  $70 – A supply list will be provided.
July 12-13 – Landscape Workshop with award winning artist, Maggie McCarthy!
The focus of this workshop will be on landscapes. The idea is to give the viewer more than a description of a place or scene.  "Feeling" is what it's all about.  Knowing what to do to make an individual piece come alive and speak to the viewer is the key.  Understand vistas, trees, water fields, snow and clouds are covered(as much as we can) but all this flows first from an understanding of landscape and successful composition.
When:  Thurs./Friday – July 12-13, 2018
Time:  9 am – 4 pm
Cost:  $185