Missouri Artists On Main, 315 – 321 S. Main St. Charles, MO  63301
(636) 724-1260  http://www.maomgallery.com
Drawing by MAOM artist Adam Long
The word 'perspective' derives from the Latin (ars) perspectiva. The method of giving a sense of depth on a flat or shallow surface, utilizing such optical phenomena as the apparent convergence of parallel lines and diminution in size of objects as they recede from the spectator. Systematic, mathematically founded perspective, based initially on a fixed central viewpoint, was developed in Italy in the early 15th century.
Chilvers, Ian. "perspective." The Oxford Dictionary of Art and Artists. : Oxford University Press, 2009. Oxford Reference. 2009. Date Accessed 30 Sep. 2016
Perspective is the art of depicting solid objects on a two-dimensional or shallow surface so as to give the right impression of their height, width, depth, and position in relation to each other. Only certain cultures have embraced perspective, for example the art of the ancient Egyptians took no account of the effects of spatial recession. Mathematically-based perspective, ordered round a central vanishing point, was developed in early Renaissance Italy. It was invented by Filippo Brunelleschi (1377–1446), described by Leon Battista Alberti (1404–72) in his treatise De Pictura, and is often referred to as linear perspective.
Perspective  may be conveyed in at least four ways: aerial perspective, perspective of receding planes, perspective of scale, and linear or 'vanishing point' perspective.
Aerial perspective is conveyed by loss of contrast and detail in more distant subjects.
The perspective of receding planes is most clearly seen in Japanese and Chinese brush paintings of mountains: even with no other indicator of scale, if one thing is in front of another it creates an impression of depth.
Perspective of scale or size is clear when, for example, there are two human figures in a picture, one of which is twice the size of the other. Experience argues that in reality both are of similar height, so one must be further away.
Vanishing point is that spot on the horizon line which receding parallel lines diminish. As things get further away from us they seem smaller and closer together. When they get far enough away, distances become small and form a single single point.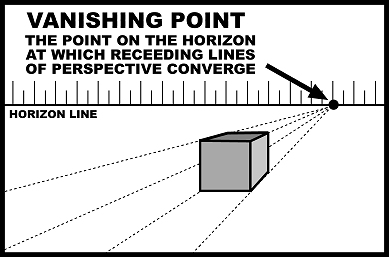 Visit the gallery is historic St. Charles to see the work of our talented Missouri artists.